Here's a confession:  I don't know who's playing in the Super Bowl.
Ok, that's not completely true. I know the Patriots are playing thanks to social media and my friends who do not like the Patriots. Other than that? I have no idea when or where or who. But regardless of all that, even though I truly do not care about the outcome of the Super Bowl, I will be watching because I could never in good conscience pass up on the once-a-year opportunity to indulge in Super Bowl food.
I first made Buffalo Chicken Rolls because I knew Tom would love them, but they immediately became one of my favorite, indulgent appetizers. I always make these for a crowd, and whenever I do the crowd agrees: they're amazing.
– – – –
Buffalo Chicken Rolls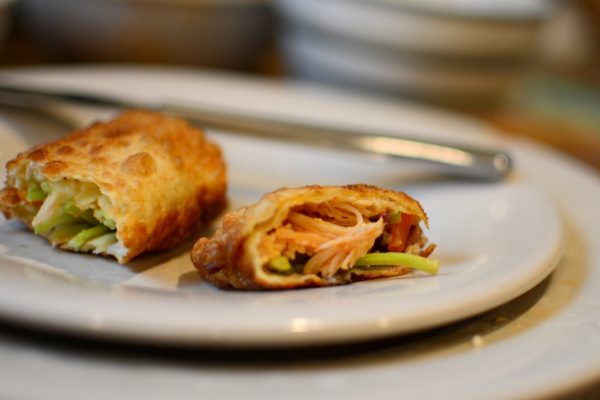 These are simple enough to whip up, but do require a little assembly. Thankfully they're forgiving (No need for precision! My favorite kind of recipe!) and completely worth it.
Start with an assembly line of ingredients. Chicken and hot sauce, blue cheese, slaw, egg whites, and wonton wrappers. (I've used either size.)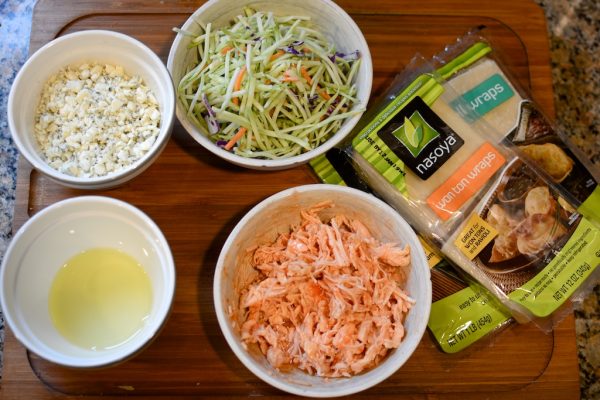 Pile up the wonton with a little of everything, making sure to not over fill. Then wrap it up.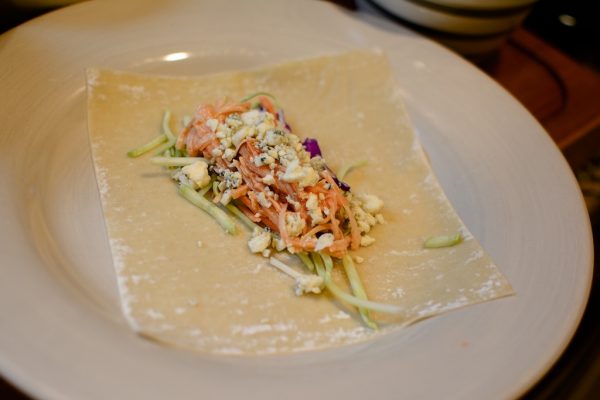 The wonton wrapper package has a nice graphic for how to correctly fold the wontons, which is really generous of the good people at Nasoya. My first few are always pretty rough, but they get better as I go.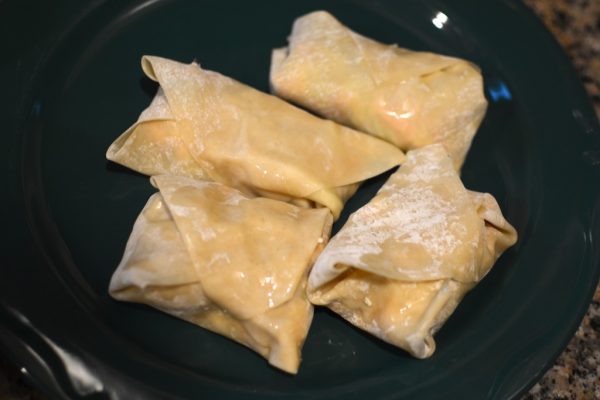 The great news? Remember? It's ok if they aren't perfect! No need for precision! Just make sure it's rolled tightly enough that nothing is leaking out.
I like to make a pile so I can fry them in batches.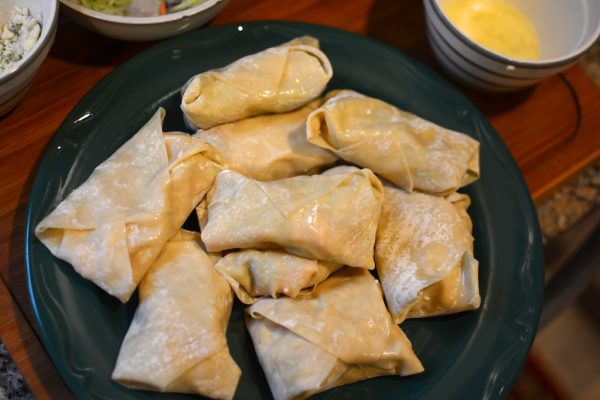 Add a bunch of canola oil to a heavy-bottomed pot or dutch oven (which is what I'm using here). When it's hot, carefully add the rolls.
Let them cook for about three minutes — you'll start to see the edges brown (these actually probably cooked for about 30 seconds too long).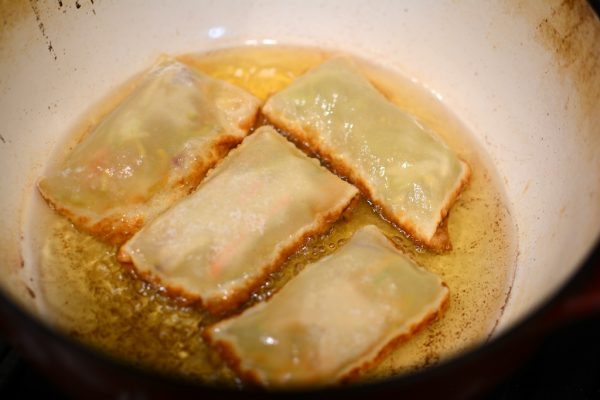 They should look like this when they're done —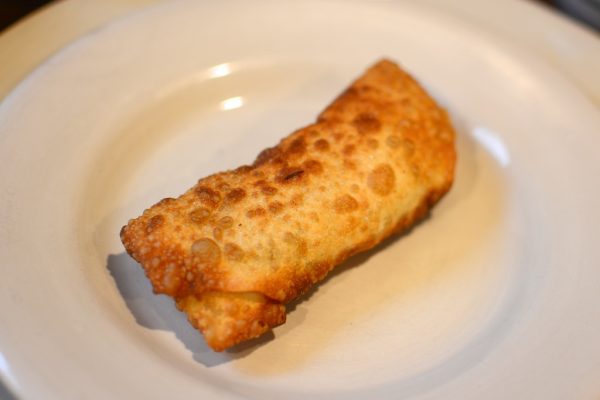 Looks kinda like an egg roll, right? But instead of an egg roll it has buffalo chicken and blue cheese and is…dare I say…better?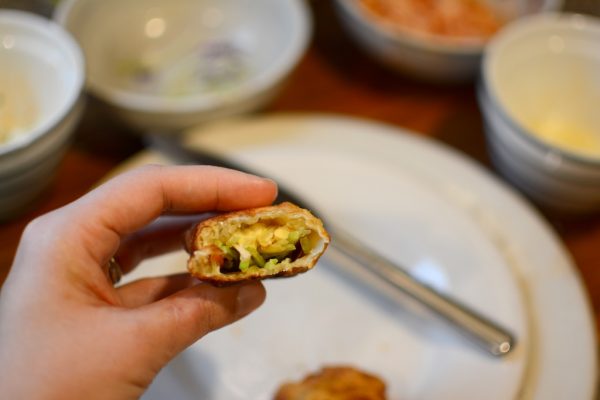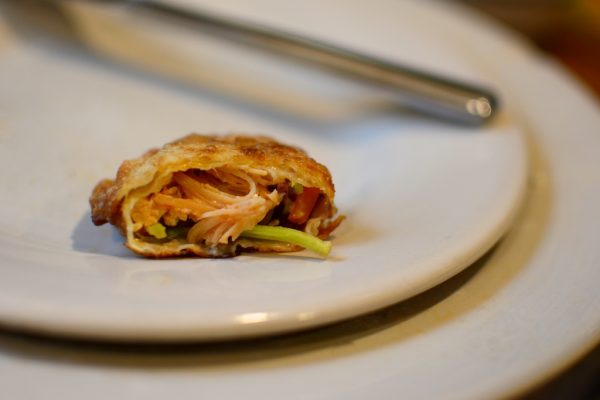 Buffalo Chicken Rolls
Ingredients

1 cup shredded cooked chicken
1/4 cup hot sauce (I use Frank's RedHot Original)
12 egg roll wrappers or wonton wrappers
1 cup shredded broccoli slaw (without dressing)
1 cup crumbled blue cheese
1 egg white, lightly beaten
Canola oil
Blue cheese dressing (for serving)
Additional hot sauce (for serving)
Directions
Mix together chicken and 1/4 cup hot sauce
Prepare all ingredients in bowls so you can easily assemble the wraps.
Place the egg roll wrappers on a work surface with one corner pointing toward you and spoon 1 Tbsp of slaw, chicken, and blue cheese in the center of the wrapper. Fold the bottom corner up over the filling, fold in left and right corners. Moisten the top corner with egg white, and then fold the top corner over the filling; tightly roll up.
Pour a heavy-bottomed pot or dutch oven with 1 inch of canola oil over high heat; heat to 350 degrees. Fry rolls for about three minutes on each side. Allow a few minutes to cool.
Serve with blue cheese dressing and hot sauce.