If you ask David if he likes school, find something to hold onto before he answers — YES! YES! YES! YES! — his excitement might knock you over.
He comes home smiling and amiable, talking about his new friends. He hasn't been hungry, moody, or overly tired — something I worried about in the weeks before kindergarten.
The transition has been seamless, again reaffirming my decision to wait a year. When I consider David's transition to kindergarten, it's clear to me that he was completely ready.
The harder transition has been with the two left behind.
Thomas misses his big brother a lot. He calls out for him throughout the day, and anytime we go anywhere, when we get home he expects David to be waiting for us.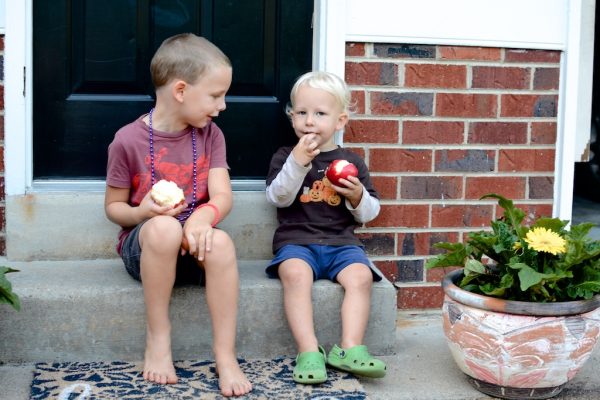 And Mary. I might have to hire someone for her to talk to during the day.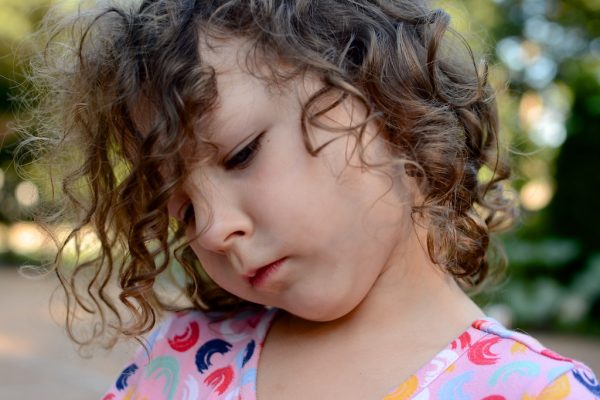 I think Thomas's problem is that he's basically undergone a management change, and Mary Virginia is much more of a micro-manager than David.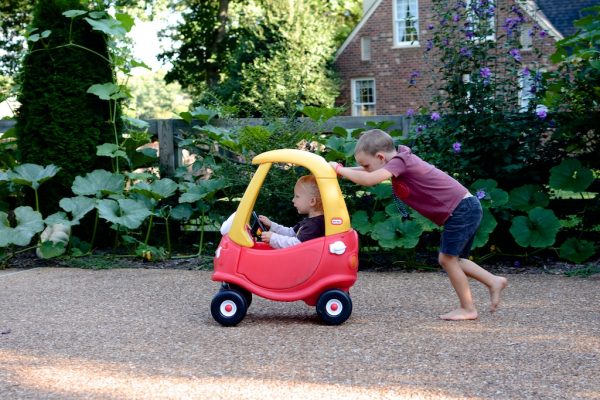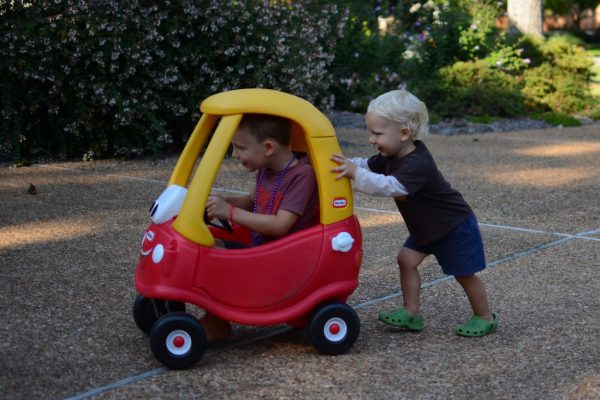 They're forging a new relationship. Thomas is toting around a doll at Mary Virginia's insistence, and Mary Virginia is slowly stepping into the leadership roles David left vacant.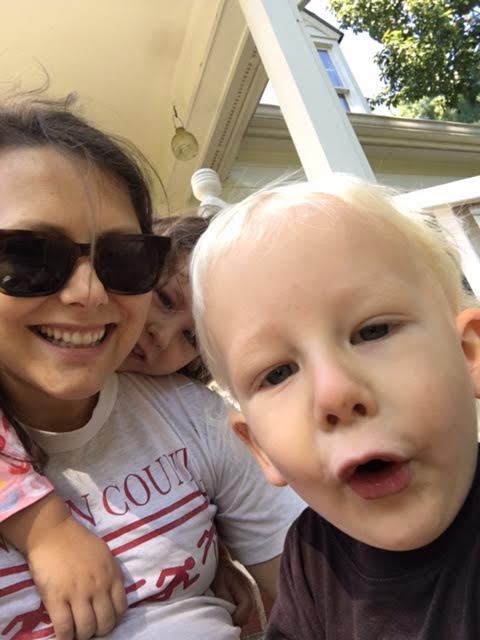 For a while now, David has said "mote-ca-matrol" instead of remote control. It started as a toddler mispronunciation, but Tom and I thought it was cute so we started saying it, too, and it stuck around.
Now that David's in kindergarten, it occurred to me that we should fix that. I don't want someone to laugh at him because he pronounces words incorrectly.
There are other things, too. We've talked to him more about stranger danger, learning our phone numbers, and then there's this blog.
Ever since I started writing about my kids, I've considered the benefits and consequences of sharing their names and photos on the Internet.
Writing is an outlet for me, but it's not something the kids asked for or understand. I've continued to write for six years for a myriad of reasons; the two main ones being that this blog provides a detailed photo album and diary for my family. Second, because I love connecting with friends — maintaining relationships with people I know in real life, and forging relationships with strangers. I love the "yes, me too" that social media and blogs can provide in a stage of life that often feels isolating.
Now that David is in school and beginning a life independent from me (SOB!) I'm going to change the way I talk about him on the blog. It'll be subtle, you might not even notice. In fact, this change has already happened naturally as he's matured.
When David was a baby I wrote about his tantrums and his sleep problems, and almost every mom could relate because baby issues are mostly universal. But David is older now, and as he gets older he becomes more singular. His struggles and achievements are more personal.
I'm not exactly sure what the parameters will be (I'm not one who likes rules or guidelines). I do know that I won't completely exclude my school-age children from the blog. I'll still share his photo on Instagram, and tell stories about David. (After all, I just shared a photo of his first lost tooth, and I have a post for his sixth birthday in drafts.)
One change I've definitely decided on is that I'm going to give him a say. He's six now, and he is sort of  barely starting to understand the Internet. Barely. I'll ask him before sharing a story, and if he doesn't want me to take his photo, I won't (within reason, ahem, Christmas morning). Maybe one day he'll even have content ideas of his own.
Including him, I hope, will help him as he grows and understands the Internet more and will one day curate his own online presence. As in, "No, David, you have to get the empty Dorito bags out of the frame before taking the photo. Cheetos are fine because they're on brand…"
I have friends who have made choices all along the spectrum. Some share every moment, some don't share names or faces. Some keep their kids' photo completely off social media. But even as well all make different choices, we're all figuring it out. We want to respect our kid, but also it wouldn't be right to deny the world that hilarious photo, would it?
The point is, we're all thinking about it. I like to think we all want to honor and respect our kids, even someone like me who's on the more liberal end of the spectrum. Entering public school is a big milestone, and so as David grows in independence and personality in the real world, I want to create safe space for him to do so in the Internet world as well.
Two essays on the subject that I love:
Why I decided to stop writing about my children : I've shamed their eating habits in chat rooms. I have Facebooked the things they've said. I have skewered them horribly, but also with great interest and affection, as a collector might do to some butterflies."
My son is a hashtag : I share photos of my son online for the same reason we all share photos of ourselves, our children and our lattes. Our feeds and hashtags replace our diaries, our photo albums, our baby books. This is our new way of documenting our existence, our way of leaving our mark on the world, however small and temporary it may be.
What are your thoughts? How have you determined social media guidelines for sharing about your kids?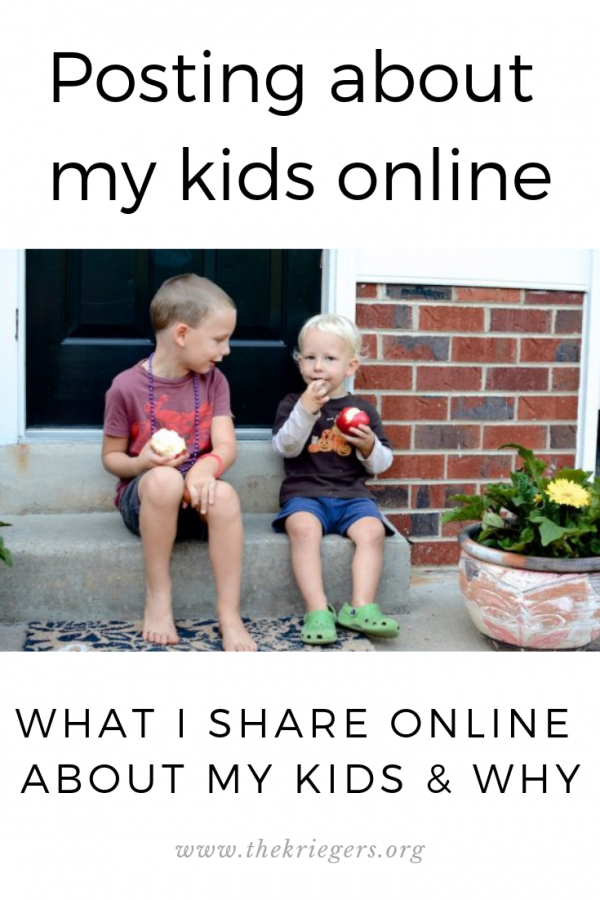 SaveSave
SaveSave
SaveSave