Thomas turned two last week, and we celebrated with the most low-key kids' birthday celebration our family has ever seen.
When David turned two I had an almost-three-month old and I still managed to mail out paper invitations. When Mary Virginia turned two, Thomas wasn't even a month old, and I still made a cake in the shape of a giant purple duck.
But with a three-week old injured thumb, we sort of arranged some chairs around the pool and picked up pizza from Costco.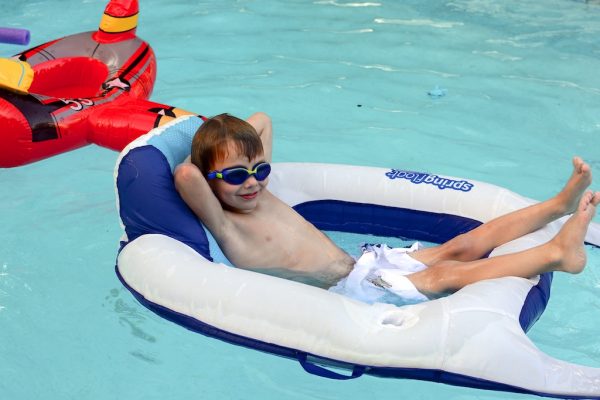 On the morning of Thomas's birthday, he woke up way too early and went straight to two-year old work — he poured nail polish on my bed and then made his very own personal Lake Thomas in our backyard. I would say something about him initiating me into life with a two-year old, but if you've know Thomas you know he's been like this since he came flying into this world at something like 60 mph.
After all that activity he took a long, late nap, and when he woke up he just wanted to sit and cuddle with Grammy. No birthday dance, no belly flops into the pool, no sneaking off to get a tattoo when my back was turned.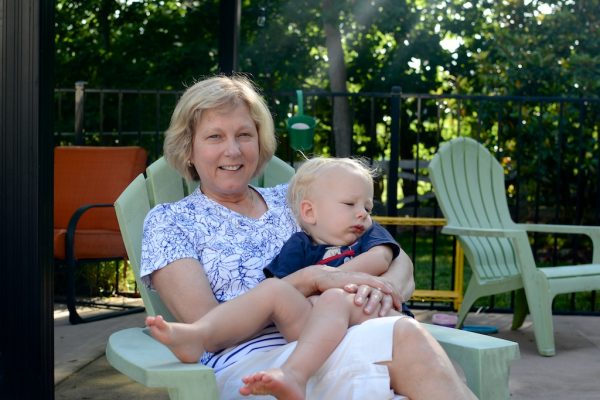 While Thomas was busy cuddling, we moved his new birthday slide to the edge of the pool and kept partying.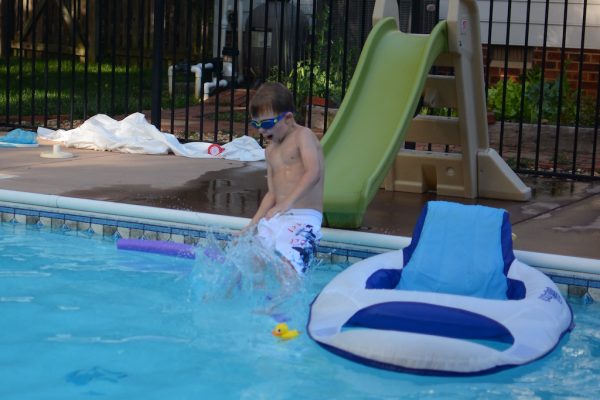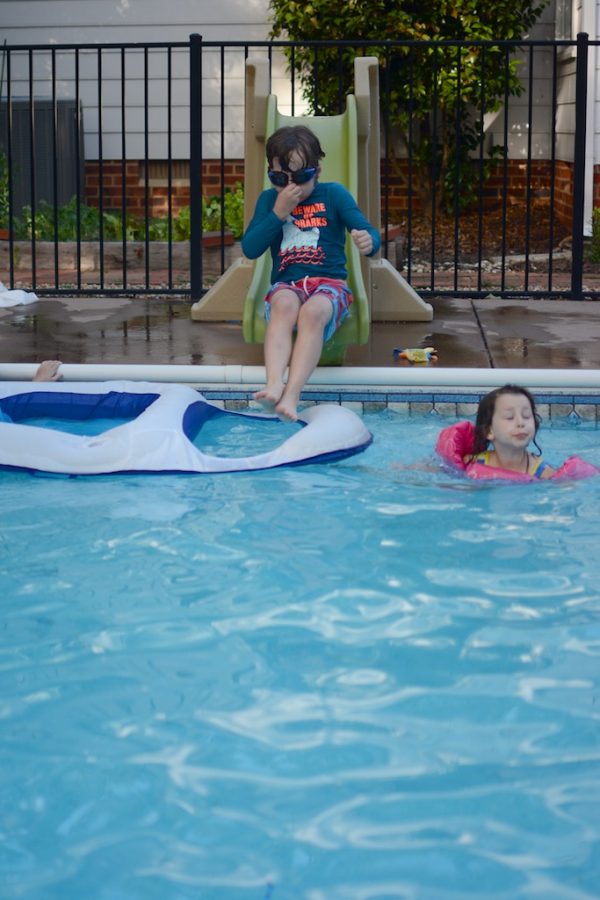 After pizza and a bunch of cheese balls we thought Thomas was ready to party, so we gathered around some gluten-free cupcakes, which are sort of becoming a tradition around here.
Speaking of traditions, it seems we're starting another tradition: Thomas crying through his birthday party. Last year he screamed the entire time we sang "Happy Birthday." And this time wasn't much different.
Thomas looked unsure from the start…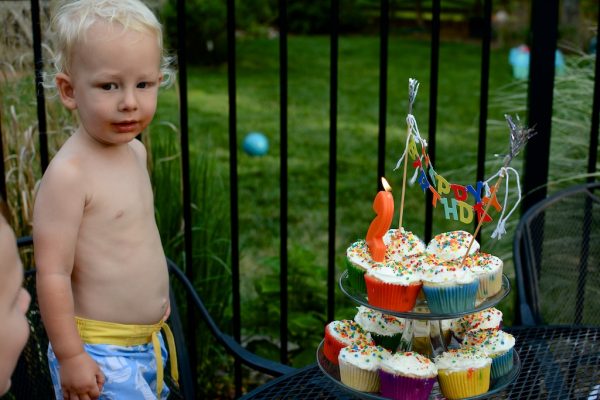 But then we started singing and he completely lost it.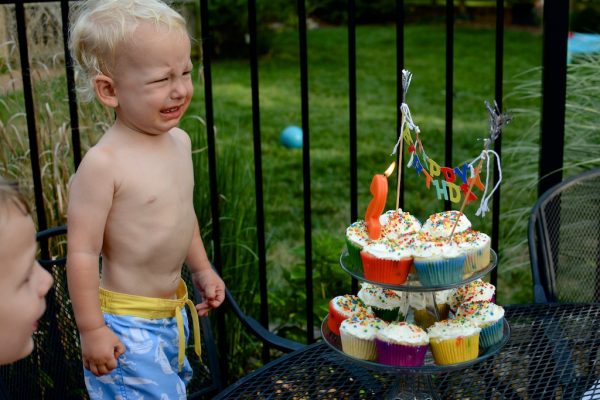 DO NOT WORRY, I CONTINUED TAKING PICTURES.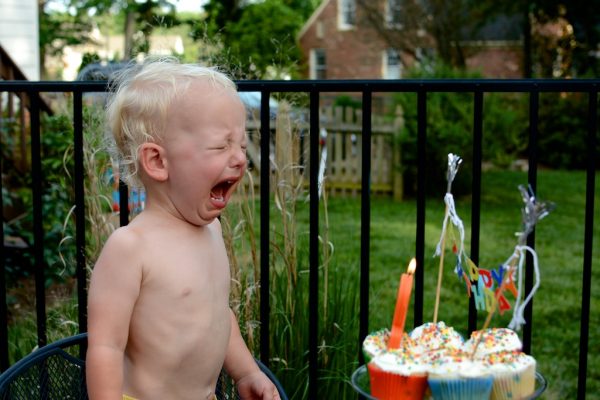 But I did send Tom over to console Thomas and also remind him that if he didn't blow out his candle, he wouldn't get his birthday wish. That's how these things work.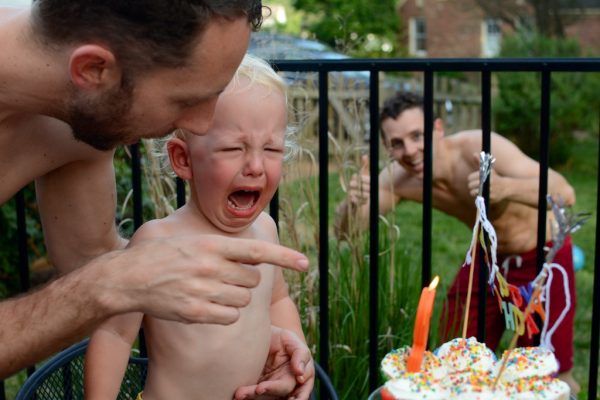 While everyone else ate, Tom and I took Thomas over to a different table and let him enjoy a cupcake in peace and quiet. No singing, no open flame.
He seemed to like that better.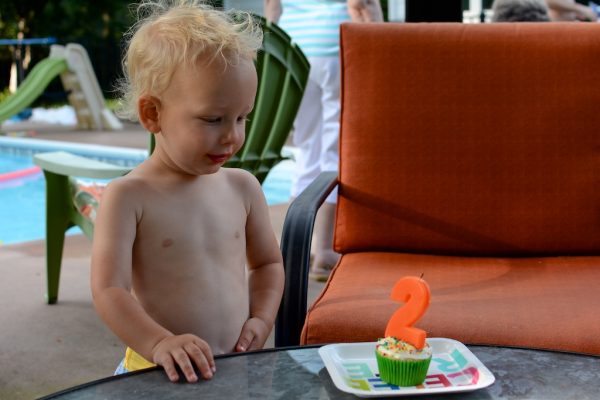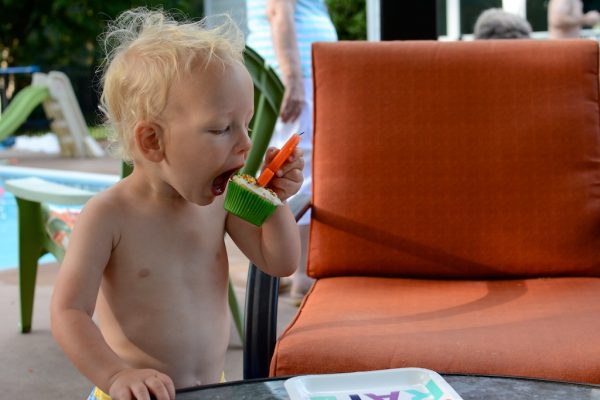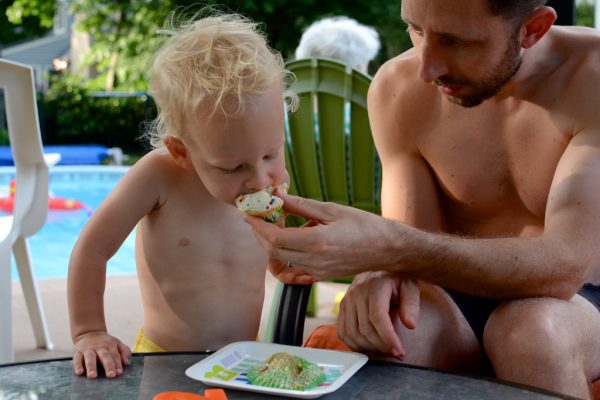 The next day we sold the leftover cupcakes at a yard sale — true story. We gotta pay for these extravagant kid birthday parties somehow. Amirightoramiright?